What you should visit on Ios
Ruins of Skarkos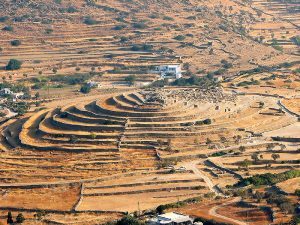 Inhabited since the early Cycladic period Skarkos is an early Bronze Age settlement. It is one of the best preserved prehistoric sites in the Aegean.
Excavations on Skarkos hill unearthed a prehistoric settlement, proving that Ios has been inhabited since the early Cycladic period. The architecture at Skarkos is preserved in places up to a height of almost three meters, with most of the buildings evidently having two storeys, stone-paved floors and a sewage system. Numerous well-preserved pottery, tools and utensils made of metal, stone and bone were also discovered. Unfortunately, the Skarkos site remains largely unpublished. In 2008, Ios was among six European locations (out of 109 candidates) awarded the European Union Cultural Heritage prize for its exceptional conservation efforts at the archaeological site of Skarkos.
Homer's Tomb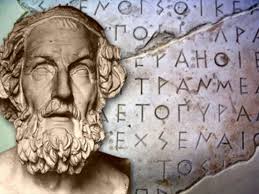 The famous poet Homer is supposedly buried on Ios. Homer wrote both the Odyssey and the Iliad and decided to spend the last part of his life on Ios because his mother was from Ios Island.
During later times, Ios made rather few marks in history. According to ancient tradition, Homer's mother was from Ios, and he himself was buried there – and indeed the locals will show visitors the site of the ancient town of Plakotos at the northernmost end of the island, where the rocky entrance to a tomb may be seen. There is no physical evidence connecting this with Homer however. There are signs of Mycenaean settlement. The north end of Ios has a ruined Venetian castle from the 15th century. The island is said to have 365 churches and chapels, like the days of the year.
Archaeological Museum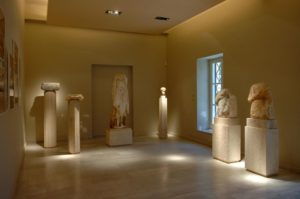 The museum includes ancient items that have been excavated on the island from the second half of the 20th century and onwards.
The small Archaeological Museum of Ios is housed in a beautiful Neoclassical building, the Amiradakio Megaro. The Town Hall of Ios is also housed in this same building. In its four halls, antiquities from the excavations of archaeologist P. Graindor and the Archaeological Service (26th Ephorate of Prehistoric and Classical Antiquities) are exhibited since 1980 and onwards. The findings from the third millennium BC (mainly from the area of Skarkos) and the second millennium (of the Middle and Late Bronze Age) are important. The museum includes ancient items that have been excavated on the island from the second half of the 20th century and onwards. Most of the findings come from the prehistoric settlement of Skarkos and the ancient town of Ios. The most interesting exhibits in the Archaeological Museum of Ios include clay statuettes of the first Cycladic period, inscriptions from the Classical, Hellenistic and Roman times, marble states, prehistoric tools, and burial columns. In the yard, there are marble architectural parts, bases of statues and sarcophagus.